I live in gratitude to my parents for initiating me--and as early as I begged for it, without keeping me waiting--into knowledge of the word, into reading and spelling, by way of the alphabet. They taught it to me at home in time for me to begin to read before starting school.

My love for the alphabet, which endures, grew out of reciting it but, before that, out of seeing the letters on the page. In my own story books, before I could read them for myself I fell in love with various winding, enchanted-looking initials drawn by Walter Crane at the head of fairy tales. In "Once upon a time," an "o" had a rabbit running it as a treadmill, his feet upon flowers. When the day came years later for me to see the Book of Kells, all the wizardry of letter, initial, and word swept over me a thousand times, and the illumination, the gold, seemed a part of the world's beauty and holiness that had been there from the start. ~Eudora Welty
Summertime is a great time to go to the Library and join their reading program. If you aren't going to read with your kids now, when are you? Make it fun--and buy the books you really love to start your own home library. Be sure to teach children the proper way to treat and store books. Click here for wonderful summer "Family Reading Activities" ideas from the Friend, May 2005 31.
Listed are books that YOU read to your child!!! They are a small list of our family's home library. Learn to read to your children--it will improve your own reading skills, (just ask my husband who read nightly to our children: Tom Sawyer, Huckleberry Finn, Charlotte's Webb, The Secret Garden, etc. and the kids' favorite story books). Be sure to read a book before you read to the kids so you are familiar enough to use funny voices, etc. The ISBN number is given after the book and author so that they can easily be found online or at bookstores. I recommend Goodreads.
Summer Fun Ideas
:
Late-night Reading
Bookworms and night owls unite in this special literary treat. Give your kids a flashlight and let them stay awake later than usual to read in the dark. They'll start looking forward to bedtime, plus they'll get in some extra reading time. Try ten minutes on weeknights and longer (or unlimited) time on Fridays.
Starting a Personal Library
Scour yard sales and used-book sales and find about 50 books, then buy a date stamp and ink pad (washable), and purchase book pockets and book cards (the local teacher's store sells them individually or by the packet). Children will spend hours checking out books and hosting story time at the new "neighborhood library."
A list of My Collection of Children's Literature to Read to a Child includes:
Preschool
First books to read to little ones because they are repetitive and help your child predict what is next which helps them learn to read:
Big Red Barn, Margaret Wise Brown 0694006246

Brown Bear, Brown Bear, What Do You See?, Bill Martin Jr./Eric Carle (Caldecott Award) 0805017445

The Very Busy Spider, Eric Carle 0590937111

The Napping House, Audrey Wood/Don Wood 0152014179

The Caterpiller and the Polliwog, Jack Kent 9780671662813

Pig Pig Gets a Job, David McPhail 0525446192

Frederick, Leo Lionni (Caldecott Award) 0394810406

The Runaway Bunny, Margaret Wise Brown 0064430189

Goodnight Moon, 0064430170

Leo the Late Bloomer, Robert Kraus 0590622706
Early Childhood
One-Minute Bedtime Stories, by Shari Lewis 0385152922

The Eentsy, Weentsy Spider Fingerplays and Action Rhymes, Joanna Cole and Stephanie Calmenson 0688108059

Great for teachers of young children--especially nursery

Hedgie's Surprise, Jan Brett 0439224098

Gingerbread Baby 0439137454

Town Mouse, Country Mouse 059022297X

Chrysanthemum, Kevin Henkes 0688147321

Chester's Way 0590440179

Julius, the Baby of the World 0590108964

Shelia Rae, the Brave 059046406X

Where the Wild Things Are, Maurice Sendak 0060254920

George Shrinks, William Joyce 059045031X

Imogene's Antlers, David Small 0590420267

Hooway for Wodney Wat, Helen Lester 061821612X

Hazel's Amazing Mother, Rosemary Wells 0590234005

Five Minutes' Peace, Jill Murphy 0590443895

Just Go To Bed, Mercer Mayer 0307119408 BEST BOOK EVER! Love Little Critter

Just Me and My Dad 3350081839

The Tale of Peter Rabbit, Beatrix Potter 051705079X

The Tale of Benjamin Bunny 0517050803

The Tale of Jemima Puddle-Duck 0517050773

Bread and Jam for Francis, by Russell Hoban, illust. by Lillian Hoban 0590478435

A Baby Sister for Frances 0590478451

A Birthday for Frances 0590486918

Best Friends for Frances 059047846X

Frog and Toad Are Friends, Arnold Lobel, 0590045296

Frog and Toad All Year 0590312073

Alexander and the Terrible, Horrible, No Good, Very Bad Day, Judith Viorst 0590421441

Miss Nelson is Missing, James Marshall 0590118773

Red Riding Hood 0590449915

The Bremen Town Musicians, Hans Wilhelm 0590447963

The True Story of the 3 Little Pigs, by A. Wolf, as told to Jon Scieszka 0590443577
Primary Grades
Little House series, Laura Ingalls Wilder (winner of five Newbery Awards)

Little House Theater Kit, Douglas Love 0439132320

The World of Little House, Carolyn Strom Collins and Christina Wyss Eriksson 059022798X

The Laura Ingalls Wilder Songbook, Eugenia Garson 0439048842

Memory of a Large Christmas, Lillian Smith

0393000389

The Polar Express, Chris Van Allsburg 0590998099 (Caldecott Award)

Jumanji 0395304482

The Widow's Broom 0590475436

The Story of The Walnut Tree, by Don H. Staheli (about Pres. Hinkley) This is on the Friend Link above

Sarah Morton's Day, A Day in the Life of a Pilgrim Girl, Kate Waters 0590474006

Molly's Craft Book, The American Girls Collection 156247118X

Molly's Cook Book 1562471171

Samantha's Cook Book 1562471147

The American Girls Party Book 1562476777
Intermediate Grades
Laura's Album (my personal favorite), William Anderson 0439062977

The Time Machine, H.G. Wells 0816728739

The Wind in the Willows, Home Sweet Home, Kenneth Grahame 1562933647

D'Aulaires' Greek Myths, 0440406943

Swan Lake, Margot Fonteyn (Parents' Choice Honors) 0152006001
Anthologies
The Hutchinson Treasury of Children's Literature, Alison Sage 0091761441

Favorite Poems for Children, Holly Pell McConnaughy 156619055X
Other Homemaker's Journal Posts with Book Lists
Take The Pledge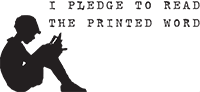 "The Library of Congress has 27,000,000 volumes. If you were to read a book a week for 70 years, that would be roughly 3,500 books. What does that tell you? Don't was

te any time reading the wrong things, watching the wrong shows, visiting the wrong websites…there's just not time for that." ~J

oe J. Christensen




Would you be interesting? Read. Would you know the best thoughts of the greatest people? Read. Would you know the earth and its peoples? Read. Would you know the gospel of Jesus Christ? Read. And with all your reading follow the advice of the wise Abbe Diment who said that we mustn't be content with reading good books; life is too short; we must read only the best. ~Marba C. Josephson